Ozempic for Weight Loss
When Kim Kardashian stunningly donned Marilyn Monroe's iconic jewelled dress to the Met Gala last year, she, and her dress were plastered on the front pages for weeks… but beneath the jewel laden exterior there is a darker reality.
Kim spoke candidly about having lost 16lbs to fit into the dress. As one accusatory Instagram commenter pointed out 'This feels like an Ozempic ad'
Hollywood is rife with A-Listers pumping themselves full of pharmaceuticals such as Ozempic or Orlistat, but stars are often withdrawn when discussing the exact nature of treatments, that gives them their signature glow.
What Is Ozempic?
Ozempic is a popular brand of injectable Semaglutide, a prescription-only medicine (POM). Other licenced brands of Injectable Semaglutide include WeGovy and Rybelsus.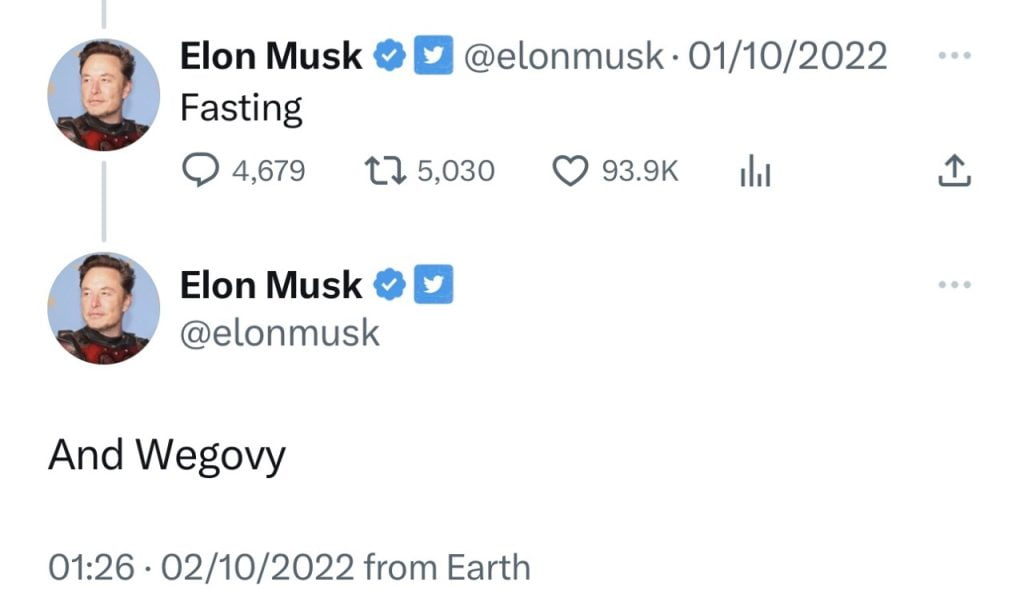 Elon Musk chimes in on the scandal with a characteristically fun take… telling an inquisitive fan that it's 'WeGovy' that's the secret to his success.
Injectable Semaglutide is used by diabetics to improve glycemic control.  It is also often prescribed as a weight loss medication to individuals with a BMI of at least 35 kg/m2
Typically WeGovy is prescribed for weight-management, whilst Ozempic and Rybelsus are prescribed for blood-glucose management, however doctors often prescribe interchangeably.
Ozempic is the most popular of the three brands, so much so, Injectable Semaglutide is often colloquially referred to as 'Ozempic Pens' or 'Ozempic Injections' regardless of brand.
Why Hollywood's Obsessed:  Ozempic for Weight Loss
Injectable Semaglutide was developed by Danish pharmaceutical giant, Novo Nordisk in 2012.
Initially, as a diabetes medicine, traction was moderate. However, the medicine began to permeate into popular culture as Hollywood's doctors began prescribing it as a weight-loss treatment.
As of 2020, injectable Semaglutide was the 129th most commonly prescribed medicine in the United States, with more than 4 million prescriptions issued annually.
The number of global google searches for the term 'Ozempic' also continues to rise steadily, as the medicine soaks up the Kardashian-induced spotlight.

Ozempic for Weight Loss: Mechanism of Action
Semaglutide is a GLP-1 analogue, meaning it helps the body produce more Insulin thereby reducing blood-glucose levels.
For non-diabetics, this same process occurs naturally after eating. It's for this very reason Ozempic is so potent as a weight-loss medication.
It acts as a powerful appetite suppressant, allowing for feelings of fullness and satiety throughout the course of treatment.
Where can I buy Ozempic?
If you're wondering how to get Ozempic for weight loss, you can buy it at Meds for Less. Ozempic is licenced for both diabetes and obesity in the United Kingdom.
Ozempic is a prescription only medicine, so it's important you're buying from a reputable source and only after engaging a healthcare professional. At Meds for Less, Ozempic is available in the following dosages.
What are some Ozempic alternatives?
Other brands of injectable semaglutides include WeGovy and Rybelsus.
Alternative, non-injectable, weight loss treatments are also available in the United Kingdom, such as Orlistat capsules or Xenical capsules.
And also other injectables such as Saxenda, which though similar to semaglutide, has a slightly different mechanism of action.
What are some side effects with Ozempic:
As with any medicine, patients may experience side-effects. For a full list of Ozempic side-effects, you should consult patient information leaflet issued by the manufacturer.
Common Ozempic Side effects include:
Swelling / Redness at the Injection site
Tiredness
Nausea / Vomiting
Diarrhea or Constipation
You should inform your healthcare provider as soon as possible if you're experiencing more serious side effects.
You should also inform your healthcare provider if you experience any kidney problems such as changes in the amount of urine or any vision changes such as decreased or blurred vision.
Get medical help right away if you experience any signs of Pancreas or Gallbladder disease such as severe stomach or abdominal pain that persists.